I am now pretty happy…. Just before leaving for far-away (well 8 hours by car) Gisborne to join Raewyn at our daughter Anna's place and await her first baby and our first grandchild, I was stressed and not sure I could cope.  But I saw a book lying round and dipped into it. The next morning I read a bit more of it, and had an epiphany.
The book is 'Happy for No Reason' by Marci Shimoff. The epiphany – well read this free ebook I wrote about it while waiting overnight on standby at Auckland International airport. I had three coffees and didn't sleep a wink, but I wrote a book! That felt good. See it here: http://www.smashwords.com/books/view/309807
Last night, safely arrived in Gisborne, I did the cover and uploaded the ebook to Smashwords.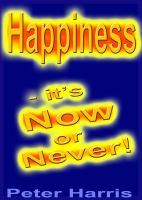 Tell me if it's rubbish, but I at least have vowed to follow this one until I am able to practice the 'happiness is here and now' wisdom at all times. The irony is I've been holding up the ideal of Eutopia all these years but not practicing the first principle of Eutopia, which is that HERE is a 'Eutopia' or Good Place, and we only find happiness Now, and again Now… Then, happy, we can also work to improve the place yet more. But if in our minds it's always  'jam tomorrow, jam yesterday but  never jam today', we will NEVER have or dwell in Eutopia.  
But do download and read the tract – it's short and hopefully clear. If you like it, put a star rating on it and propel it to wider readership. That would make me very happy! 🙂